Supertek RO Systems for industrial use.
Industrial RO – Supertek 1000 LPH
Product Description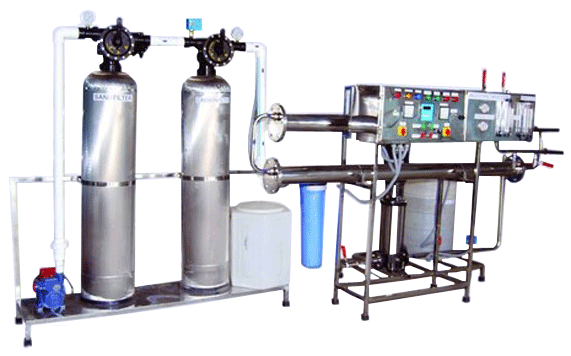 Basics of Design & Water Treatment
This produces quality water at the flow rate of 1000 litres per hour. It can work continuously for 8 to 9 hours per day besides 0.5 hour to 1 hour for back-washing of the filtration system.
TECHNICAL SPECIFICATION
1. Raw Water Transfer Pump:
Quantity required
One
Material of construction
CI
Make of material
c.g.
2. Multi-Grade Filter:
Quantity required
One
Size of unit Dia × Ht
13″ × 54″
Material of Construction
FRP
Max. pressure drop
0.5Kg/cm²
Flow control
Top mounted multi port valve
Media
Graded silex anthracite & sand
Vessel make
Aventura
3. Dosing Pump:
Quantity required
One
Type
Diapharagm type electronic pump
Capacity
0.5 LPH
Make
E-dose
4. Micron Filter:
Quantity required
2
Type
Disposable cartridge
Operation rate
1.0m³/hr
Operation pressure
2.5Kg/cm²
Micron rating
5 micron
Type of cartridge
PP wound
MoC
PP
5. High Pressure Pump:
Quantity required
One
Operating flow rate
7.5m³/hr
Operating pressure
10 – 12 Kg/cm²
Make of pump
cri.
Type of drive
single phase
7. Electrical Control Panel:
Quantity required
One
Material of construction
MS skid mount
Electrical components make
b
6. RO Membrane:
Quantity required
4 nos.
Dimension
Dia 4″, Length 40″
Working Pressure
180 psi
Element
Spiral Wound Membrane
Make
Hydrostatic membrane from Pentair India
INSTRUMENTS
Pressure Gauges .2 (PIC)
Flow meters: 1 Nos. (One reject & one permeate)
Pressure limiting switches: 02 Nos. Line mounted adjustable.
PIPE FITTING: UPVC
PRICE INCLUDES
Supply and Assembling the complete reverse osmosis plant 1000 LPH – One
Packing – Included
Tax and Freight – Excluded (Rs.10,000/- extra)
Erection and commissioning – Included
Warranty – One Year for pumps only
Delivery – Within 7 days from the date of payment.
Payment – 100% Advance
VAT – 12.5% extra.
EXCLUSIONS
The following are specifically excluded from our scope of work:
All process inputs, utilities such as tube well for water, power supply and distribution system, inlet-outlet piping etc.
Fire fighting equipments.
All civil work including building, shed, foundation, roads, ramps, storage tanks etc.
Warehousing, storage and safe custody of equipment and other plants item received at site.
Temporary power supply during construction and erection of plant.
Effluent treatment.
Any other services/equipment not specifically mentioned.
Model of the plant.